Bryan Brothers of Colac
These were Australian born brothers, Archie Mark BRYAN and either Thomas Pierce BRYAN or George BRYAN, who established themselves as windmill manufacturers and general iron founders and engineers in Colac, Victoria in 1888. They commenced business with a loan of 18 pounds from the National Bank after being refused by the Bank of NSW. They also manufactured stoves, tanks, tank stands and other articles sold throughout Victoria, NSW and South Australia. Their business address was listed at Gravesend St in 1902. They shifted premises in 1902 and set up a foundry at 45 Corangamite St. They were listed as a windmill manufacturer in Corangamite Street, Colac in
Wise's Post Office Directory of Victoria
in 1904. Another factory was opened in West Footscray in 1925 which operated until c1932. Other addresses listed for them are Gellibrand St, Colac and Irvine St, West Footscray.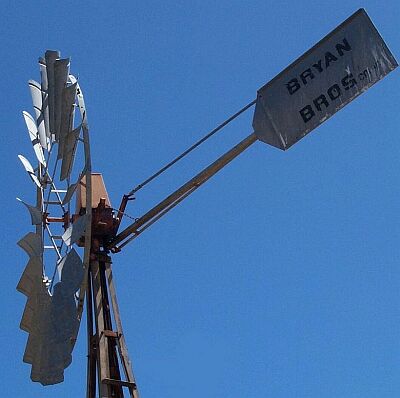 Bryan Bros. developed a unique wind wheel design which used the sail mounting brackets as part of the wheel bracing structure. The blades were crimped at both ends and were riveted not bolted to the brackets. The rims and arms were constructed of galvanised angle iron.
In 1944 the Colac business was sold to R. A. BORCH. A private company BRYAN BROS and BORCH was set up in 1960 and windmills continued to be manufactured in Colac until 1975 when the EPA put an end to the factory on pollution grounds. By having components sourced from foundries at Geelong and Melbourne, they were able to continue production of cast iron windmills until 1980. After this, to compete costwise, they produced a steel fabricated gear box, steel machine cut gears and sealed ball bearing races. In 1987 they were bought by Colac Water Supply Specialists and BRYAN WINDMILLS COLAC was formed with three additional shareholders.
Photographs by B. G. Hewitson, 2005
Back to gallery