Bryan Bros. Oilbath Windmills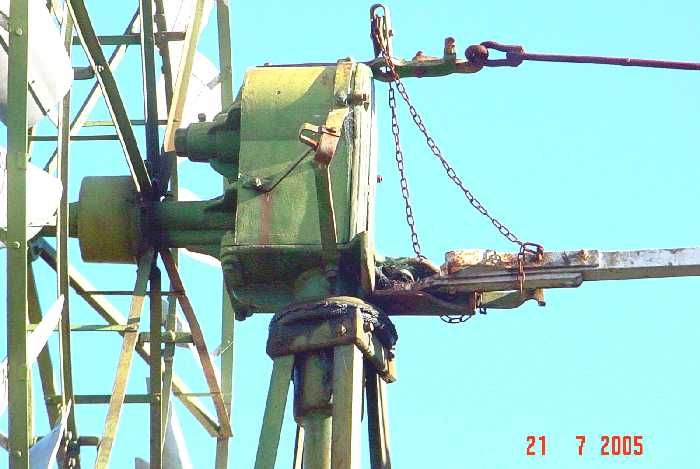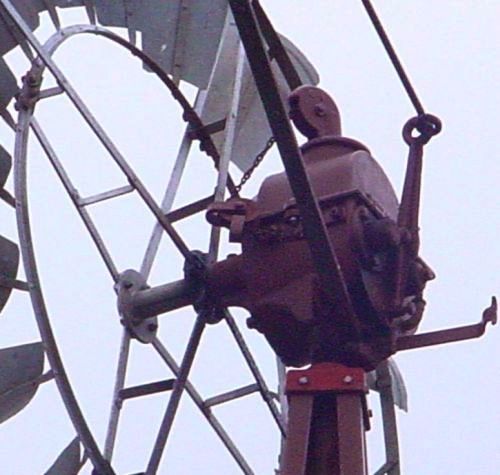 Bryan Bros. manufactured a number of different oilbath windmills. Their dual geared windmill was available in 6, 7, 8 and 9 ft. These sizes were known in 1972 but may have also been available before and after this date. It had a welded gear box and dual machine cut, floating main gears with oil bath lubrication. It was painted Chamberlain orange.
A heavy duty oilbath windmill that was also offered circa 1972 was available with 10, 12 and 14 ft windwheels. This windmill used a cast gearbox and gears, and bronze bearings.
The Bryan Bros. oil enclosed eccentric windmill (not pictured) contained only four moving parts, these being the main shaft, eccentric body ring and link. The last three were immersed in oil and the first was lubricated with each turn of the wheel. The bearings were made from a combination of white metal and ball race. It was available with 6, 7 and 8 ft. windwheels. This windmill was apparently a weak pumper with a very light load capacity. Its unusual shaped gearbox looked like a cylinder placed on end and led to its colloquial name of the Piss Pot windmill. It was sold from circa 1969 to at least 1972.
The oil enclosed double geared windmill was an oil bath windmill that was available c1985 with 6, 7, 8 and 9 ft wind wheels. It had a steel welded gearbox and dual independent machine cut gears. The spokes were riveted together and galvanised. It sold from at least 1969.
Its bigger brother, the oil enclosed double geared heavy duty windmill, appears to have been sold from at least 1971 in the 10 & 12 ft wind wheel configuration. A 14ft version had been added by 1986.
Photographs by B. G. Hewitson, 2005
Back to gallery