The Inglewood Windmill
This forge made windmill is from Inglewood, South Australia. The maker is unknown. He appears to have made at least two different windmills and may have made others. Some of the metal used to make the windmill is obviously second-hand, for example, the strapping around the tail.
Photographed at the Morawa Museum, Western Australia in October 2006 by H. Walter.
This historic photograph of a blacksmith's shop was taken close to where the windmill was collected from and may have been where it originated, though this is only supposition.
Historic photograph courtesy of M. Raglass.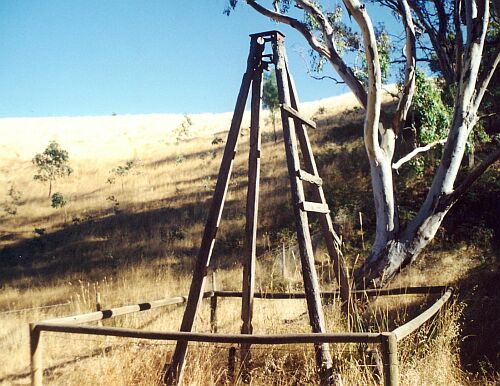 This photograph of a wooden tower was also taken in the same general area from where the windmill was collected and the design would suit the Inglewood windmill, but again this is only supposition and further information is required before it can be taken as fact.
Photographed at Watts Gully Road, Forreston, South Australia in 2003 by B. G. Hewitson.
Back to gallery