James Prowse
James PROWSE was born in 1861 at Paraparap about fourteen kilometres South West of Geelong, in the Modewarre area, Victoria to John and Agnes [nee HOWE] PROWSE. He moved with his family to Ondit (renamed Beeac), Victoria in 1873, where his father commenced farming land to the North East of the town.
James married Drucilla WOODS in 1882, and by 1883 he was leasing farm land in the local Beeac area in his own name. Around 1890 James leased farm land adjoining James CORBETT, who also appears in records as a Beeac windmill manufacturer. He bought this property a few years later.
Sometime between November 1899 and January 4th 1900 he took over both the Lang Street, Beeac premises and the business of carpenter, blacksmith and windmill maker Robert BROWN. Robert BROWN operated his business from the west end of Lang Street, Beeac. James Prowse operated from here in his early days of business, but later built brick premises at the Main Street corner of Lang St.

James' oldest son James Edward (Ted) Potter Prowse [1885 - 1937] later worked with their father, along with the other two sons, John William (Jack) PROWSE [1899 - 1940] and William Oliver (Oliver or Ollie) PROWSE [1890 - 1968], when they became old enough. This probably commenced within the first few years of the business's operation, but the earliest known advertisement for "J. PROWSE & Sons" is 1928. At a relatively early date, possibly as soon as 1910, James Prowse acquired the north east corner block of the intersection of Lang Street with Main Street. A new brick shop was built there that mainly operated as hardware shop, with the Prowse Windmills being manufactured next door on Main Street in a large wooden building
The promotion of soldier settlement in the period following the First World War saw a very busy time for Prowse Windmills, with over thirty people employed. Windmills and accessories not only went to the closer soldier settlements such as Dreeite, but were also dispatched interstate to New South Wales and South Australia. They could be supplied with tanks, tank stands, and tin lined wooden troughs if required.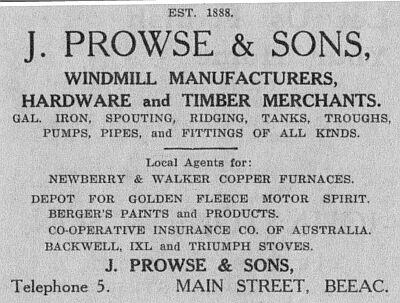 James PROWSE retired in 1928/29, leaving the business to his eldest son James (Ted) to run. Unfortunately Ted PROWSE died in 1937 and Jack PROWSE died early in 1940, so Oliver PROWSE, as the sole remaining partner, decided to close the business in March 1940. The shortage of manpower created by the commencement of the Second World War also contributed to the closure. After the closure the manufacturing works carried on for a short time with a windmill called a Nelson being produced. A clearing sale was held in the next one or two years and the factory was purchased by Stan STARES, the Cressy policeman, and removed. The Masonic Lodge now stands on the site. Another smaller shed was bought by Bert SALMON and moved out to his farm. The brick corner shop lay idle until 1946 when George COPS bought it and started a grocery business, which operated until the 1970's.
Additional research and adverts courtesy of Craig Pink.
Back to gallery