Back to gallery
The Saunders Engineering Company Windmills
The Saunders Engineering Company Ltd was a manufacturer based in Kilkenny, South Australia. It was previously known as the Speedy Windmill and Pump Company Ltd and the Saunders Break-Of-Gauge Engineering Company. The man responsible for the invention of the various models of windmills and pumps made by this company was John Henry SAUNDERS. Windmills were produced between at least 1912 and 1940 in Kilkenny, South Australia.
SAUNDERS was the youngest son of Thomas SAUNDERS and was born in 1871-72. In July 1900, at the age of twenty-nine, he married Mary Theodora WILSON at Mylor, South Australia, and the couple had eight children, one of whom died in infancy. SAUNDERS was obviously of an inventive mind and had fifteen patents granted here in Australia as well as a couple overseas in Britain, Canada and the USA. The majority of his inventions related to windmills and pumping equipment but there was also a harvester, a sprayer and a break of gauge for rail device.
The windmills they manufactured were the SPEEDY windmill, the ALERT windmill, the STANDARD windmill, the VICTOR windmill, the ACE windmill and the CROWN windmill. They also made a wind generator called the STANDARD LIGHT.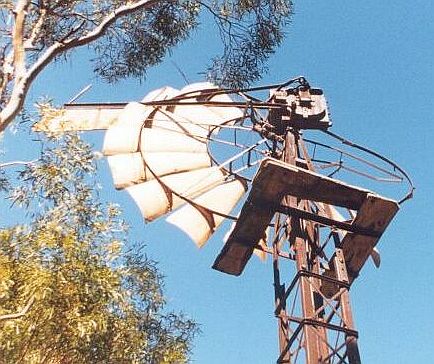 The SPEEDY windmill was the first windmill produced by the company and the mechanism of the open geared head employed a cam action quick return to maximise a straight line movement. The Speedy windmill was successfully marketed within South Australia and interstate. It was said to be made in a range of sizes but the only definite sizes found in advertising have been 7ft, 8ft and 12ft. A tower size of 21ft was given with the 7ft mill and 25ft with the 8ft mill.
The next windmill made by The Speedy Windmill and Pump Co. Ltd was the ALERT windmill which was made in windwheel sizes 6, 7, 8, 9, 10, 11, 12, & 14ft with a choice of 20ft or 30ft towers. It was a geared, fully enclosed, oilbath mill that was self governing. The company also made an Alert Pumping Gear which was constructed on the same principles as the ALERT windmill head.
RIGHT: -The ALERT windmill.
In 1924 the company name changed from Speedy to Saunders Engineering Company Ltd. Their new windmill was the STANDARD windmill, made from late 1926 onwards. At the Royal Show in Adelaide in 1929 the STANDARD was awarded first prize (Silver Medal) as the best self-oiling windmill. The STANDARD windmill was a double geared oilbath windmill made in a range of sizes including 6ft, 7ft, 8ft, 9ft, 10ft, 12ft and 14 ft. A variation of this was the 1927 Model STANDARD. A 1939 pricelist advertised an "A" Model Standard equipped with roller bearings and a "C" Model Standard. A 1940 pricelist gave an additional windwheel size of 16ft for the "C" Model Standard. Towers were three post or four post with the larger mills all on four post towers.
The STANDARD was also made in a single gear. These were a sturdy small windmill and came with windwheel sizes of 5ft and 6ft. It was an oil bath model with wide faced gears, double guides and double lift to prevent overhanging strain, and had a ball bearing turntable.
LEFT: - The STANDARD windmill.
The VICTOR windmill came into production around 1929. It was made in 5ft and 6ft sizes and could be mounted on a post or a three or four legged tower. It was of quite a different design to the STANDARD but still a single geared, self governing, oilbath mill with a ball bearing turntable. It appears to have been a short-lived model.
The ACE windmill was produced in 1932 and introduced a new mechanical movement. It utilised a Cam-convex Rocker to provide an even upward pumping stroke and a quicker return, an ideal movement for this single geared windmill. The ACE geared windmill was available in sizes 8ft, 9ft, 10ft, 11ft and 12ft and the GEARLESS ACE was available with a 6ft and 7ft windwheel. The gearless or direct action ACE windmill was intended for use in pumping from shallow depths and with a pump of no more than two inches. Timken bearings supported the crank end of the main shaft and double row self aligning ball-bearings supported the outer or windwheel end of the shaft.
The last known water pumping windmill to be produced by Saunders Engineering Co. Ltd was the CROWN windmill. It was a direct acting, parts running in oil windmill made in sizes 18ft to 24ft. Like the Ace, it too was exhibited at the Adelaide Show in 1932. It was claimed to have a pumping capacity of up to 60,000 gallons in 24 hours. There was also a double geared, self oiling version of the CROWN made and marketed as the NEW CROWN. It made its first appearance at the Adelaide Show in September 1936 and was still being made in 1940 in sizes of 5ft, 6ft and 8ft.
Saunders Engineering Co. Ltd also made a wind generator, the STANDARD LIGHT from 1935 onwards. These were a direct driven model offered in 12 and 32 volts, and a gear driven model in 32, 50 and 110 volts. They had a four-bladed propeller of 11ft or 12ft diameter. Advertising for these machines appears in newspapers between 1933 and 1939. There was also a two-bladed propeller version advertised in 1937.
The fortunes of the Saunders Engineering Co. Ltd came to an abrupt halt in January 1939 when John Henry SAUNDERS was killed in a car accident at the age of 67. The business as a going concern was put up for tender in January 1940 but it doesn't appear as if there were any takers as the liquidators sold off the premises in April 1942.
Photographed by B. G. Hewitson.
Back to gallery